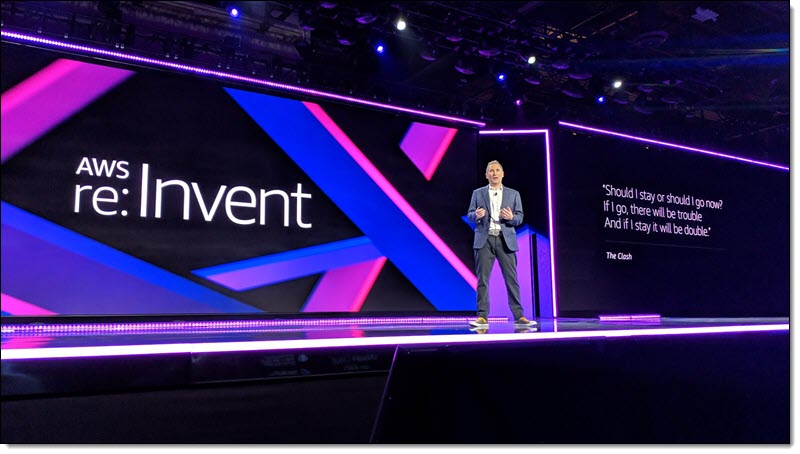 Experience Amazon's unique, quirky culture at re:Invent
Whether it's board games, bingo, arts & crafts or '80s sing-alongs, we've got something for everyone. Sign up today and join in the fun! In addition to the activities below, look out for our Mechanical Bull at Venetian, Game Room at ARIA, Doodle Wall at Venetian, Photo Booth at Sands Foyer, Typewriter Challenge at the Quad, and lots more Campus-wide fun.
Can't make it to Las Vegas for re:Invent? Come join the CloudHesive and the AWS Teams for a live streaming of Andy Jassy's re:Invent Keynote Speech.
We will have lots going on including food and some cool demos from the CloudHesive & AWS team. We might not be in Vegas, but there will be some lucky winners walking away from this event.
** Capacity is limited, so registration is required.
When: Tuesday, December 3rd 2019
Time: 11:00am- 3:00pm
Where: CloudHesive HQ: 2419 E. Commercial Blvd. #300 Fort Lauderdale, FL 33308
Agenda
10:00am-10:45 AM -Registration and Breakfast Buffet
10:45 AM-11:00 AM – Opening Remarks
11:00 AM-1:30 PM – Live Stream Keynote, Andy Jassy*
1:30 PM-2:30 PM—Ask an Expert and Innovation Demo Lab
2:30 PM-3PM – Closing Remarks and Raffle Prizes
*Brunch is included
Questions? Email Rebecca.Auguste@CloudHesive.com
We hope you can make it!